Pat Hickey Truck & Trailer Spares, in business since 1985 and specialising in components for commercial vehicles has grown to become one of the largest heavy duty parts suppliers in the Midwest of Ireland. The range of components include parts for most buses, trucks and vans on Irish roads and components to suit most types of trailer running gear such as ROR, BPW, SAF, York, Freuhauf, Lohr and Granning.
Independent Truck Parts Distributor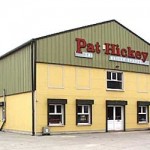 The business has been built on hard work, commitment and customer service. In an industry that demands high quality components at the most competitive rates, Pat Hickey Truck And Trailer Spares has excelled. We are proud to be an independent distributor with a large variety of quality suppliers. We offer a comprehensive and varied range of components, parts and services. We back up our commitment with a regular route delivery service to our customers and an emergency call out service if required allowing us to provide the type of service that is second to none. We work together with our customers to provide the type and level of service they need and we believe that the success of our customers will drive our own growth and success.
Specialised Components and Filters
We supply quality truck accessories, truck and bus parts and trailer parts to road haulage fleets, bus and coach companies, emergency services, plant hire companies, quarries, mining operations and more throughout Munster, Connaught and the Midlands region of Ireland. Our heavy duty parts range includes air bags, air brakes (pads, discs, callipers, valves and chambers), air conditioning components, axle parts, batteries, bulbs, camshafts, clutch kits, exhausts, pollen filters, heating equipment, lighting, refrigeration components, starters and alternators, steering and suspension parts, tools, trailer spares and consumables.
We are also one of the leading heavy duty filter suppliers in Limerick and the Mid-West with Hengst Filters, Mahle/Knecht and Mann+Hummel as our main brands. With Hengst, Mahle and Mann filters you are guaranteed reliable performance and maximum protection for the life of your engine and systems. We also carry replacements for Baldwin Filters, Donaldson Filters and Fleetguard Filters.
We are agents for top heavy-duty parts manufacturer like Meritor, Multipart, Bardahl, Draper, Hengst, Mahle, Mann & Hummel, Jost, SV Shock Absorbers, Dan-Bloc Brake Linings, Trico and many more quality suppliers. We carry brands our customers know and trust supported by our experienced and profession team on the road and behind the counter.
Customer Service Commitment
Comprehensive Range of Stock
Call-Out Service if Required
Competitive Prices
Reliable and Efficient Delivery Service
Quality Parts from Top Suppliers
Stocked Parts Van Service
Same Day Delivery in Many Areas
Friendly, Knowledgeable Staff
Customer Product Training